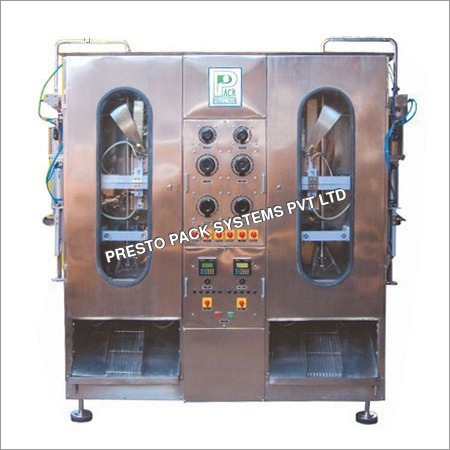 Ghee Packing Machine
Product Code : PP2000 DIO S.,
Product Description
Ghee Packaging Machinery
Packaging Machines for Viscous Liquids (Item Code: PP-1000S)
We are engaged in manufacturing an extensive variety of Packaging Machines for Viscous Liquids with item codePP-1000S. These machines operate at the speed 2000 pouches per hour and offer different filling capacities ranging from 250 ML to 1000ML. The machines have a pneumatically operating system.

Technical Specifications
MACHINE MODEL

PP-1000S (SINGLE HEAD)

APPLICATION

For Viscous Liquids. Like Edible oils, Ghee, Vanaspathi and Non Edible oils.

FILLING CAPACITY

250 ML to 1000ML.

OPERATING SPEED

2000 Pouches per hour.

TYPE OF SEAL

Centre seal or Side seal.

SEALING SYSTEMS

Impulse or Continuous.

FILM MATERIAL

LDPE / HDPE / Multi layer and Laminates.

ELECTRICITY

230V 50HZ Single phase.
415V 50 HZ Three phase.

TYPE OF MACHINE

Full Mechanically Operated.

COOLING WATER

30PSI, 100 Ltr/Hr at 12-15C.
Contact Us
No. 83/B-3, Phase-I, IDA, Jeedimetla, Hyderabad, Telangana, 500055, India
Phone :+918068214870